According to the latest e-cigarette sales data from the U.S. convenience store channel according to Nielsen statistics, e-cigarette sales in February this year fell by 6.5% year-on-year, a slight decline. The decline in January accounted for 8.8%, and the month-on-month increase in February was 3%.
Among some best-selling brands, VUSE increased by 1.7% year-on-year and 5% month-on-month, and its market share in the United States increased to 35% year-on-year; Njoy fell by 12% year-on-year and increased by 2% month-on-month, and its market share in the United States remained at 5%.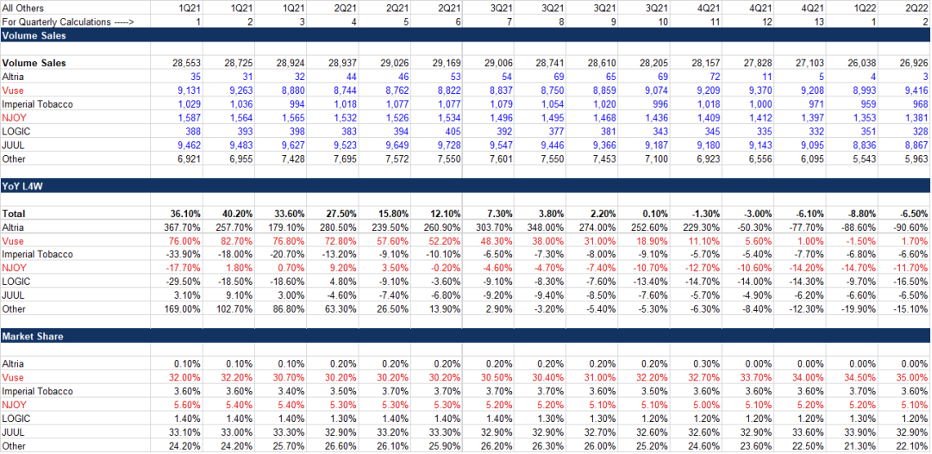 Nielsen's data more reflects the sales situation of the compliant e-cigarettes in the US market. At present, the main factor for the relatively sluggish US pods is that the PMTA approval is relatively slow and the sales of compliant products are limited.
On the other hand, due to the high base in the same period in 2021, it also caused a decline in data.
In addition, the U.S. cartridge-replaceable product market is squeezed by relatively loosely regulated disposable electronic cigarettes and synthetic nicotine products. Judging from the long-term tracking data of disposable products, it still maintains a good momentum. Some manufacturers Shipments still maintained a growth of more than 50%.

And Juul Labs Inc., Reynolds Vapor, NJoy and Fontem, the former market "overlords", must stop manufacturing and distributing unauthorized flavors from 2021, which is also a major reason for the decline in the US market.
China Electronic Cigarette Factory/ The best electronic cigarette factory in China/Cheap vape /vape pen/ vape pod/ .The New vape /vape pen/ vape pod/ Popular/fashionable/prevalent vape /vape pen/ vape pod/No leakage/ No leak vape /vape pen/ vape pod/ delicious flavor vape /vape pen/ vape pod/ vape /vape pen/ vape pod/ Wholesaler/vape /vape pen/ vape pod/ manufacturers/ vape /vape pen/ vape pod/ suppliers/ vape /vape pen/ vape pod/ actory、Customized/vape /vape pen/ vape pod/ Free Sample/vape /vape pen/ vape pod/ buy discount/ vape /vape pen/ vape pod/ quotation/Top vape /vape pen/ vape pod/ Best vape /vape pen/ vape pod/ vape /vape pen/ vape pod/ in stock/ vape /vape pen/ vape pod/ near me