According to foreign media reports, most tobacco control experts agree that e-cigarettes are safer than smoking combustible cigarettes. The main concern of anti-vaping groups, lawmakers and regulatory officials is not that vaping belongs to the risk continuum. It's about preventing teens from accessing nicotine products, whether in the U.S., minors are defined as under 21, or under 18 in many other markets. According to vaping industry experts, the best way to keep teens out is through innovative technology. The vaping industry will need technology and regulatory policies to satisfy its skeptics.

Technological innovation has been a major contributor to the e-cigarette industry's struggle to engage with teens. Several companies have developed devices that use biometrics, such as fingerprint and facial recognition. For example, the OBS Cube FP Kit uses fingerprint recognition to prevent unauthorized use. However, a 2020 review by ecigclick.com found that fingerprinting is complicated to configure. "The instruction manual is totally pants…and it is," the reviewer wrote. "So far, I haven't figured out how to use the fingerprint thing; the diagrams in the book are all about bugs on actual devices."

Juul Labs launched its C1 in Canada in 2019. The device is paired with an Android smartphone to limit who can use it and monitor what and how often users vape. Juul said the C1 will only work if it passes age verification and facial recognition checks. The C1 also has a system that can be set to lock automatically when not in use or away from the phone it's connected to.

Juul Labs followed with the Juul2, which had many of the same child-safety features as the now-discontinued C1. Juul2 can also identify and authenticate connected proprietary Juul2 pods, limiting the ability to use counterfeit pods or refill them with other substances such as THC.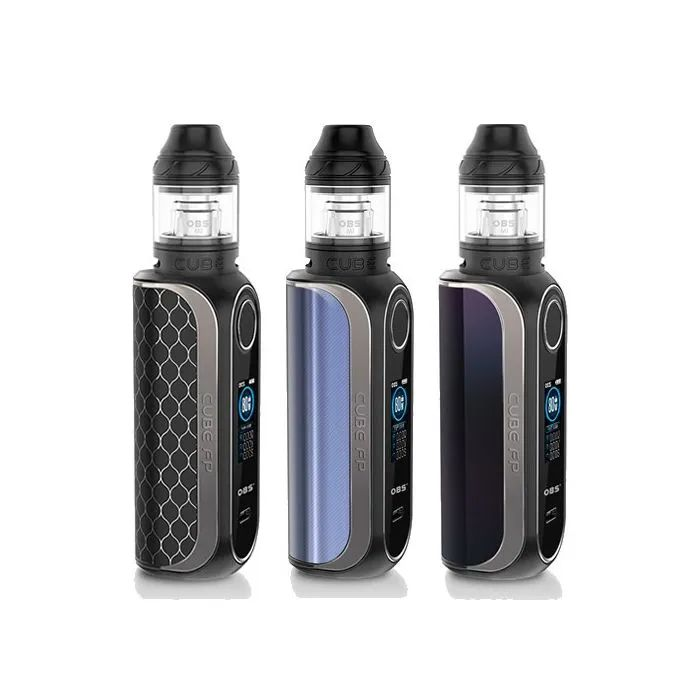 For example, the OBS Cube FP Kit uses fingerprint recognition to prevent unauthorized use. (Photo: OSB)

According to Steven Yang, senior director of research and development at FEELM, FEELM has incorporated designs that prevent misuse by children into its products, such as requiring users to follow a specific sequence of procedures to activate the device.

"With multiple industry-leading patents, FEELM is exploring ways to integrate Bluetooth, fingerprints, airflow switches, sensors and other electronic technologies into products," Yang said, adding that many Chinese e-cigarette industry leaders have already Authentication and facial recognition technology is employed.

"Release, the strategic partner of FEELM and the leading brand of electronic cigarettes in China, launched the sunflower system in 2019. Based on artificial intelligence and big data, the sunflower system was integrated into RELX chain stores, RELX APP and other different scenarios to prevent minors from purchasing electronic cigarettes. product," Yang explained. "The Sunflower system has been extended to all RELX stores in China, ensuring that every purchase order is traceable. In addition, through big data and GPS, the Sunflower system can automatically filter addresses that do not meet the legal requirements for opening an e-cigarette store—such as near schools. "

According to RELX, Project Sunflower includes the use of ID and facial recognition technology to ensure that only adults can purchase products in its Chinese stores. Minors are not allowed to enter RELX stores. If a suspected minor enters the store, the face scanning camera in the store will alert the RELX store staff. Any suspected minor who is unable to present legally valid ID proof of their age will be asked to leave the RELX store.

When purchasing products, RELX customers are also required to verify their age through a facial recognition process that matches the customer's face to the photo on the customer's national ID card," a RELX representative said. of people using their valid identification rather than trying to impersonate an adult. "

While facial recognition measures are widely used and accepted in China, resistance may be encountered elsewhere. Chris Howard, vice president, general counsel and chief compliance officer at U.S.-based e-cigarette maker E-Alternative Solutions, said consumers generally accept biometric controls in phones, tablets and other devices that use fingerprint or face unlocking . Screen.

Those who are tech-savvy may welcome the alternative in their vaping products, he said. However, traditional cigarettes do not have any electronic controls to prevent illegal use, so if e-cigarette regulations follow tobacco rules, this will limit these types of innovations.


RLX Technologies deployed facial recognition technology to ensure that only adults can buy its products in the company's Chinese store. (Photo: RLX Technology)

"The idea that a vaping product would require such a requirement to get a marketing order seems unlikely. It's important to remember that adult smokers may be reluctant to deal with electronically locked tobacco products," Howard said. "While some people may enjoy the novelty, many may simply be using an easier-to-use tobacco product – possibly with a higher risk. Many issues revolve around the use of biometrics in products. There are legal privacy concerns, This will increase the cost of such equipment."

Manufacturers must also understand regulatory constraints in the markets in which they operate, Yang said. FEELM has protocols in place to help retailers and distributors comply with local guidelines. Yang said the company put clear warning labels on its closed-system vaping devices and included language in the user manual that said the products were intended for adults only.

"We also focus on ensuring that the retail stores that sell our products have mechanisms in place to verify the age of consumers who purchase the products we manufacture in order to comply with local laws and regulations regarding age restrictions," Yang said. "Furthermore, our website and our key customers of online stores require visitors to enter their age before entering the site."

While technology is an important part of a comprehensive strategy to prevent teenage exposure, experts say the industry and its regulators should also acknowledge the limitations of technology. Today's youth, who grew up with smartphones, online social networks and e-commerce, are by far the most digitally savvy generation. While technological solutions to keep minors from entering may deter some, young buyers motivated enough may overcome these measures with relatively little effort.

Regulatory Response
 
Taxes have long been the regulator's preferred means of keeping youth out. However, research shows that tax increases don't always have the expected impact. Instead, these measures prevent combustible smokers from switching to safer alternatives, according to a study by Steve Posiask and Liam Seagaard of the Consumer Research Institute's Center for Citizen Research. "Overzealous or poorly designed restrictions [such as tax increases] on vaping, coupled with misleading information about the actual health risks of vaping, are preventing smokers from seeking potentially life-saving alternatives," the researchers said.

Tim Andrews, director of consumer issues for Americans at Tax Reform, said increasing taxes on reduced-risk tobacco alternatives would not reduce youth access, but would penalize adult consumers, leading many to return to deadly combustible cigarettes.

"Paradoxically, by creating a thriving black market that, by definition, does not have the strict age verification procedures required by legitimate retailers, the vaping tax may increase rather than decrease access by young people," he said. "In recent years, teen vaping has declined sharply due to the strengthening of existing laws. [According to the U.S. Centers for Disease Control and Prevention, only 3.1 percent of high school students use e-cigarettes on a daily basis.] Adequate and appropriate enforcement of existing laws – no tax increase – will continue to drive that number down."

Advocates for tobacco harm reduction also stress the importance of risk-proportional pricing and the importance of proper education on available products to encourage smokers who cannot or will not quit nicotine to consider less harmful alternatives to cigarettes. By taxing the most harmful product — combustible cigarettes — at significantly higher rates than risk-reducing alternatives, regulators can push consumers toward the least healthy options.

Other innovative regulatory responses to youth vaping have had mixed results. Outside of U.S. tax and Tobacco 21 laws, any effectiveness seems difficult to prove. There is little research showing what effect different regulatory actions have on teen vaping, the research shows. A study published in BMC Public Health, "Policies to Limit Youth Exposure and Exposure to Tobacco: A Scientific Ignore of Phase 1 of the Policy Process," reviewed 200 international peer-reviewed articles. The researchers found little scientific evidence on the policy process for youth prevention initiatives.

"The processes that influence the adoption of youth access and exposure policies are grossly underestimated. A better understanding of policy processes is critical to understanding national differences in tobacco control policies," the researchers wrote. They then go on to suggest that "policy makers can adopt and implement a variety of supply-side policies to limit youth exposure and exposure to tobacco, such as raising the minimum age of sale, limiting the number or type of tobacco stores, or banning the display of tobacco products."

Howard questioned whether regulations limiting the number of tobacco/vape shops or banning displays would have a significant impact on youth use. "Which companies should have their licenses revoked? Should only the big chains that have more control over their storefronts be allowed to sell tobacco products?" Howard asked. "How will removing businesses stop young people from accessing tobacco products? Yes, there will be [fewer] stores [at] where products can be found, but that doesn't mean there will be less vaping among young people. In 'The Teen Vaping Epidemic' *During the period, Walmart, arguably the largest retailer in the US, removed vaping products from its stores – is there evidence that youth e-cigarette use has decreased? Finally, banning the display of tobacco products may affect youth exposure to tobacco products, but also reduces exposure of adult smokers to different,

Incentive to succeed
 
There may be more innovative options to consider in controlling adolescent access. Another potential avenue to limit the entry of young people could be to require manufacturers to offer incentives to retailers to maintain good practice. Howard believes that discounts on B2B sales or incentives that meet certain criteria could significantly limit access for young people.

"Manufacturers can prevent straw sales by limiting the number of products in the transaction, passing compliance checks, training on tobacco sales and participating in the We Card program to encourage retailers to 'up their game' when it comes to preventing youth access," he said.

States are slowly becoming more innovative in their approach to regulating teen vaping. For example, Hawaii is considering passing a law requiring its Department of Health (DOH), in coordination with its Department of Education (DOE), to establish a "take back" program for students to "voluntarily dispose of electronic smoking devices," flavored tobacco or synthetic nicotine products, and Tobacco products they own. If passed, the rules would also require the DOH and DOE to coordinate quarterly meetings with students to address the teen vaping epidemic.

Many industry experts agree that the vaping industry, the tobacco control community and regulators should work together to address youth drug use. However, this seems unlikely. Arguably, the FDA's Center for Tobacco Products (CTP), the world's most prominent regulator, should bring stakeholders together to find common solutions to these problems. According to Howard, that hasn't happened yet.

"It looks like CTP feels compelled to use sticks instead of scalpels to eliminate teen vaping. Banning flavored pods through a comprehensive MDO [marketing denial order] and blanket rejection of the millions of PMTAs [premarket tobacco product applications] for flavored products ], eliminating most industry stakeholders in about a month," Howard said. "While most of this was imposed on the CTP, it is hard to imagine why the CTP would now resort to a compromise solution when they have complete control over the problem?

"Both the CTP and the tobacco control lobby hate bad actors who market their products without thinking about this important issue. Companies that actively follow the rules also hate bad actors. The CTP, tobacco control and the ethical side of the industry should join forces to address these bad actors. eradicated."
China Electronic Cigarette Factory/ The best electronic cigarette factory in China/Cheap vape /vape pen/ vape pod/ .The New vape /vape pen/ vape pod/ Popular/fashionable/prevalent vape /vape pen/ vape pod/No leakage/ No leak vape /vape pen/ vape pod/ delicious flavor vape /vape pen/ vape pod/ vape /vape pen/ vape pod/ Wholesaler/vape /vape pen/ vape pod/ manufacturers/ vape /vape pen/ vape pod/ suppliers/ vape /vape pen/ vape pod/ actory、Customized/vape /vape pen/ vape pod/ Free Sample/vape /vape pen/ vape pod/ buy discount/ vape /vape pen/ vape pod/ quotation/Top vape /vape pen/ vape pod/ Best vape /vape pen/ vape pod/ vape /vape pen/ vape pod/ in stock/ vape /vape pen/ vape pod/ near me