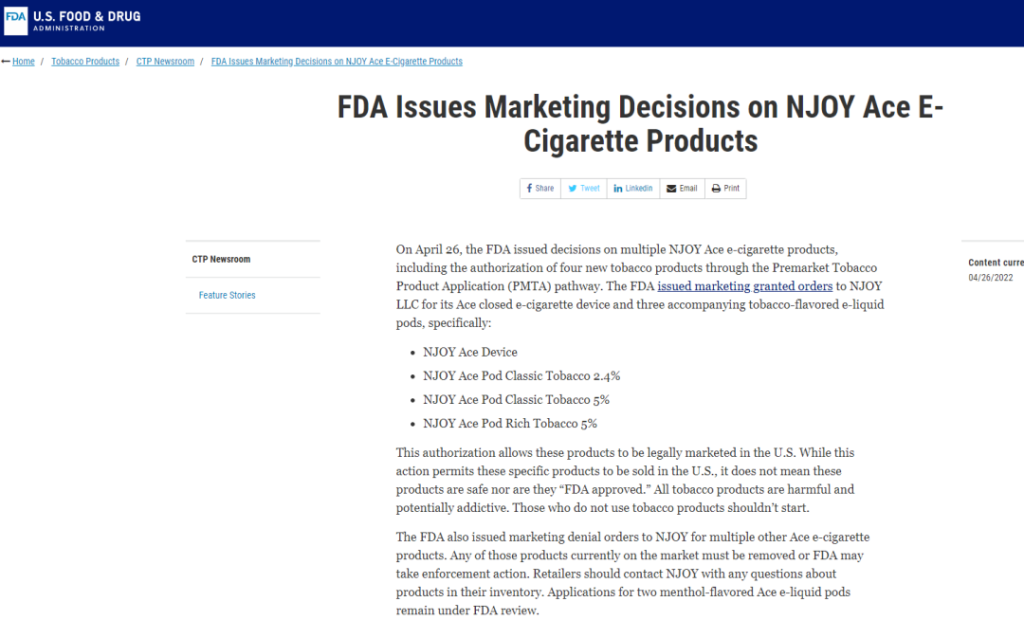 On April 26, the FDA issued decisions on multiple NJOY Ace e-cigarette products, including the authorization of four new tobacco products through the Premarket Tobacco Product Application (PMTA) pathway. The FDA issued marketing granted orders to NJOY LLC for its Ace closed e-cigarette device and three accompanying tobacco-flavored e-liquid pods, specifically:
NJOY Ace Device
NJOY Ace Pod Classic Tobacco 2.4%
NJOY Ace Pod Classic Tobacco 5%
NJOY Ace Pod Rich Tobacco 5%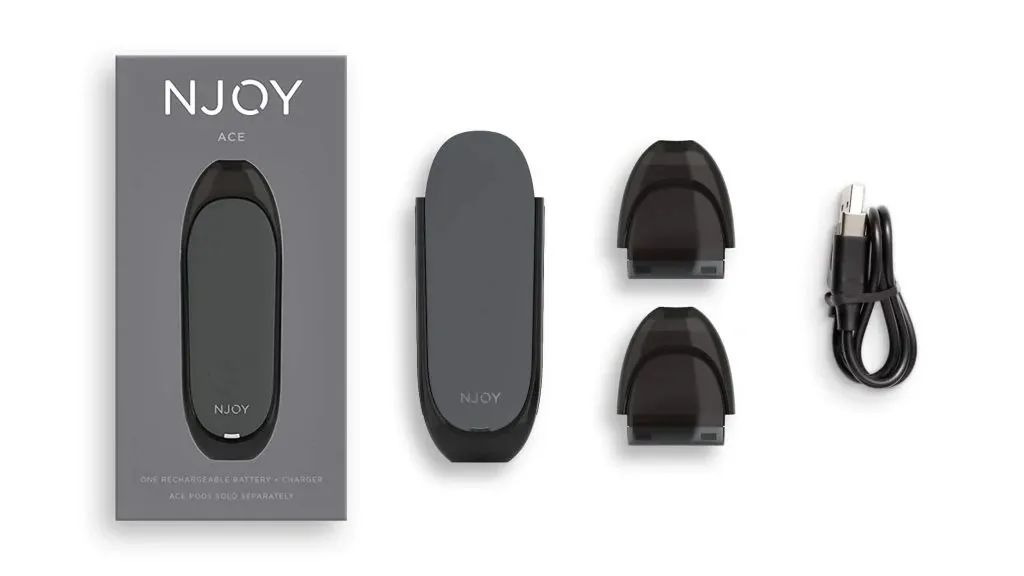 After a comprehensive uation of NJOY products, the FDA concluded that chemical testing showed that the levels of harmful substances and potentially harmful substances (HPHC) in the mist of NJOY Ace were lower than those of cigarettes, and users of NJOY Ace products were exposed to lower levels of potentially harmful components than cigarettes, so The FDA believes that the product has better harm reduction properties than cigarettes.

The approval of NJOY Ace's PMTA represents FDA's comprehensive recognition of the safety and harm reduction of ceramic core products. At the same time, the three NJOY products approved by the FDA are suitable for the classic tobacco flavor and strong tobacco flavor, and the nicotine content is 2.4% and 5% respectively, which means that the FDA hopes to see electronic atomization that is safer and less harmful than cigarettes. devices to improve public health.

Headquartered in Scottsdale and founded in 2006, NJOY is one of the largest independent vaping companies in the United States, offering a range of electronic nicotine products for adult smokers and vapers looking for alternatives.

According to public information, NJOY's domestic foundry is Smol.

NJOY's electronic atomization solution provider, FEELM, has been focusing on the research and development of ceramic core technology solutions for many years, and has continuously improved the safety standards of electronic atomization products through basic research and development investment and accumulation of laboratory resources.

At present, Smol has built the world's first E&L laboratory in the industry, making the material safety of FEELM customers enter the medical level, and has built the first corporate toxicology laboratory in the electronic atomization industry, which provides customers with the highest standards in the world. The safety of aerosol HPHC and user exposure to potentially harmful components was assessed.

FEELM and NJOY first started cooperation in 2009. With the blessing of FEELM technology, NJOY has become the third-largest electronic atomization brand in the US market. As the NJOY ceramic core products pass PMTA this time, the global head electronic atomization companies will have a deeper acceptance of ceramic products in the future. At present, in the US electronic atomization market, VUSE, the brand with the largest market share (35%), is also a customer of FEELM. The VUSE Alto series developed and produced by FEELM for its OEM has become the flagship product that drives its sales growth.
Disposable e-cigarettes come in dozens of flavors
Grape/Mango/Lemon-Kiwi/Pineapple, Strawberry Guava/Passion Fruit/Peach Ice/Banana/Lychee Ice/Red Bull/Cream Strawberry, КЛ/Orange Soda/Strawberry Banana/Watermelon/Blueberry Wild Berry/Melon/Chocolate Ice Cream/ Cherry/Cherry-Coke/Bubble Gum/Green Apple/Pineapple Coconut/Raspberry/Strawberry Donuts/Lemon, Orange, Grapefruit/Mango Guava,/Vanilla Ice Cream/Tropical Fruits/Cappuccino/Dragon Fruit Strawberry /tobacco/mint/light rum, lime, mint/pink lemonade/tequila, liqueur, sour/barberry/vanilla cola/candy bears/wine, cinnamon, lemon, honey, ginger, /Sprite/Blackcurrant/Marshmallow/Hazelnut Candy/Pomegranate Juice-Gooseberry-Lemon /