The UK government released its eighth independent report on nicotine vaping research on 29 September, updating the key findings of the 2022 UK nicotine vaping evidence update.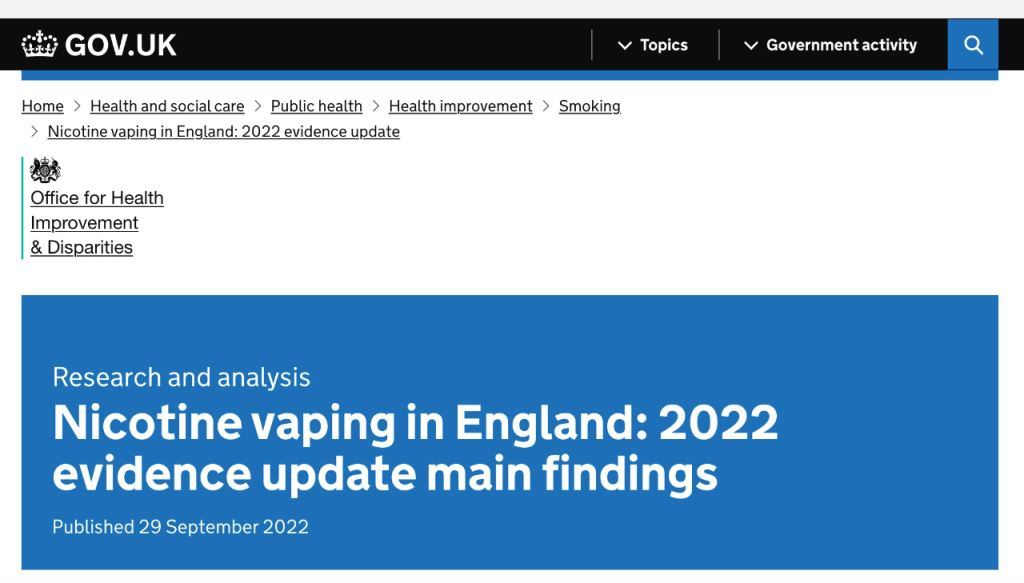 Commissioned by the UK Department of Health and Social Care and led by academics from King's College London and a group of international collaborators, the report is the most comprehensive to date. Its primary focus is a systematic review of the evidence on the health risks of nicotine e-cigarettes.
The United Kingdom is one of the most friendly countries to e-cigarettes. It not only researched the harm reduction of e-cigarettes by 95%, but also refuted the misunderstandings and prejudices of nicotine and e-cigarettes. It also allows hospitals to sell e-cigarettes, which can be called electronic cigarettes. Smoke heaven.
Recently, the UK also said it would become the first country in the world to license e-cigarettes as a medical product for smoking cessation.
Compared with the fiery e-cigarette regulation in the United States, the British government's move is definitely a clear stream in the formulation of e-cigarette policy. It does not prohibit flavoring, open-ended, and disposable, but it will set the nicotine content. They believe that e-cigarettes It is an important measure to effectively promote the UK's entry into a smoke-free society by 2030.
Let's take a look at the main takeaways from this research update.
The report looks primarily at data on human exposure to e-cigarettes, supplemented by findings from animal and cell studies. It provides the strongest evidence yet of the health risks of e-cigarettes. It also assessed the relative risk of vaping compared to smoking, and the absolute risk compared to not vaping or smoking.

Overall conclusion
Based on the evidence reviewed by the team, it concluded that:
In the short to medium term, vaping is only a fraction of the risk of smoking;
E-cigarettes are not without risks, especially for people who have never smoked;
Evidence is mostly limited to short- and medium-term effects, and studies are needed to assess long-term vaping (over 12 months);
More standardized and consistent approaches in future studies will improve interpretation of the evidence.

Biomarkers of Toxic Exposure:
Biomarkers of toxic exposure are measurements of the levels of potentially harmful substances in the body. Evidence reviewed indicates the presence of:
Compared with smoking, e-cigarettes have significantly lower exposure to harmful substances and significantly reduce exposure to biomarkers associated with cancer, respiratory and cardiovascular disease risk.
Risks of exposure to harmful substances in e-cigarettes are similar or higher compared to products that do not use nicotine.
Among non-smokers or non-vapers, toxic biomarkers did not increase significantly after short-term secondhand e-cigarette exposure.

Potentially harmful biomarker aspects:
Biomarkers of potential harm are measures of biological changes in the body that result from exposure to smoking or e-cigarettes. Although this review looked at many studies on potentially harmful biomarkers, the team could only draw limited conclusions. However, well-run studies assessing short- and medium-term risks have not identified major problems associated with vaping.

Smoking and vaping prevalence:
For young people:
The latest figures from the ASH-Youth 2022 survey of 11- to 18-year-olds in England show:
The current smoking rate (both occasional and regular) is 6% in 2022, compared to 4.1% in 2021 and 6.7% in 2020;
The current prevalence of e-cigarettes (including occasional and regular e-cigarettes) is 8.6% in 2022, compared to 4% in 2021 and 4.8% in 2020;
The majority of young people who never smoked are not currently vaping (98.3%);
The use of single-use vaping products has increased significantly, with 52.8% of current vapers using them in 2022, compared to 7.8% in 2021 and 5.3% in 2020.
For adults:
The latest data from several national studies of adults in the UK show that:
According to the survey, the smoking rate in England in 2021 is between 12.7% and 14.9%, equivalent to 5.6 to 6.6 million adults smoking;
According to the survey, the prevalence of e-cigarettes in England in 2021 is 6.9% to 7.1%, which is equivalent to 3.1 to 3.2 million adults using e-cigarettes;
The prevalence of e-cigarettes among never-smoking adults remains low, between 0.6% and 0.7% in 2021;
Disposable e-cigarette products have increased in popularity among adults who use e-cigarettes, with 15.2% using them in 2022, compared to 2.2% in 2021;
Cans remain the most popular vaping device (used by 64.3% of adult vapers in 2022);
E-cigarette products remain the most common aids people use to help them quit smoking;
Among smoking cessation services from 2020 to 2021, quit attempts involving vaping products were associated with the highest success rate (64.9% versus 58.6% for quit attempts not involving vaping products);
The smoking cessation service data are consistent with the latest evidence from the Cochrane System of Living Review of e-cigarette smoking cessation, which also shows that e-cigarettes are effective for smoking cessation.

In terms of taste:
Fruit flavors remain the most popular among adults and young adults who use e-cigarettes, followed by menthol/mint.
Overall, there is a lack of evidence on whether flavoring affects health risks. E-cigarette products containing the flavoring chemical cinnamaldehyde are a concern and regulators should review their use in e-liquids.
There is limited evidence that some flavorings in e-cigarette products have the potential to alter cellular responses (from animal and cellular studies), but less so than exposure to tobacco smoke.

For nicotine:
E-cigarette products generally provide users with lower levels of nicotine than smoking. However, experienced people can achieve similar nicotine levels as smokers.
Available evidence suggests that vaping has a lower risk and severity of nicotine dependence than smoking, but varies by product characteristics such as device type and nicotine concentration in e-liquid. This is consistent with the evidence on nicotine exposure from the currently reviewed biomarker and pharmacokinetic studies.

Views on harm:
By 2021, only 34% of adults who smoke vaping accurately believe that vaping is less harmful than smoking.
Only 11% of adults who smoke knew that the risks of smoking are not or rarely caused by nicotine. Inaccurate perceptions need to be addressed.

Evidence reviewed also indicated:
People's perceptions of the harms of vaping can influence their subsequent vaping and smoking behavior.
Communicating accurate information about the relative harms of vaping can help correct misconceptions about vaping, especially among adults.
Interventions aimed at preventing the absolute harms of vaping in young people need to be carefully designed so as not to mislead people (especially smokers) about the relative harms of smoking and vaping.
Researcher assessments and official UK views
"People who vape have significantly lower levels of exposure to carcinogens and other toxicants than people who smoke. Helping people switch from smoking to vaping should be a priority if the government is to achieve a smoke-free 2030 in England matter."
– Dr. Debbie Robson, Senior Lecturer at Tobacco Harm Reduction King's IoPPN and one of the authors of the report.
"Smoking is uniquely lethal, killing one in two regular persistent smokers, yet about two thirds of adult smokers (who would indeed benefit from switching to e-cigarettes) are unaware of the greater harms of e-cigarettes. Small. However, the evidence we reviewed suggests that vaping is unlikely to be risk-free. Therefore, we strongly discourage anyone who has never smoked vaping or smoking."
– Professor Ann McNeill, King's IoPPN Professor of Tobacco Addiction, lead author of the reportUK Deputy Chief Medical Officer Dr Jeanelle DeGruchy said: "Every minute in the UK someone is admitted to hospital for smoking. One person dies from a smoking-related death every eight minutes. This important study is the latest in a series of studies that carefully bring together the science of e-cigarettes to help reduce the damage caused by smoking.
The doctor concluded by saying:
"E-cigarettes are far less harmful than smoking, so the message is clear, if you're choosing between smoking and e-cigarettes, choose e-cigarettes. If you're choosing between e-cigarettes and fresh air, choose fresh air "
Source: Blue Hole New Consumption
Key words: atomizer / cartridge / e-liquid" / electronic cigarette / vape MESH core / Disposable Electronic Cigarette / Refillable Electronic Cigarette Smoking Cessation