On March 24, the FDA's official website showed that some products of Japan Tobacco International's electronic cigarette brand Logic have obtained PMTA authorization, such as Logic Vapeleaf, Logic Power, Logic Pro, etc., mainly tobacco flavors, and mint flavors are still under review.

This is the second e-cigarette product authorized by PMTA after British American Tobacco's Vuse.

Related Reading: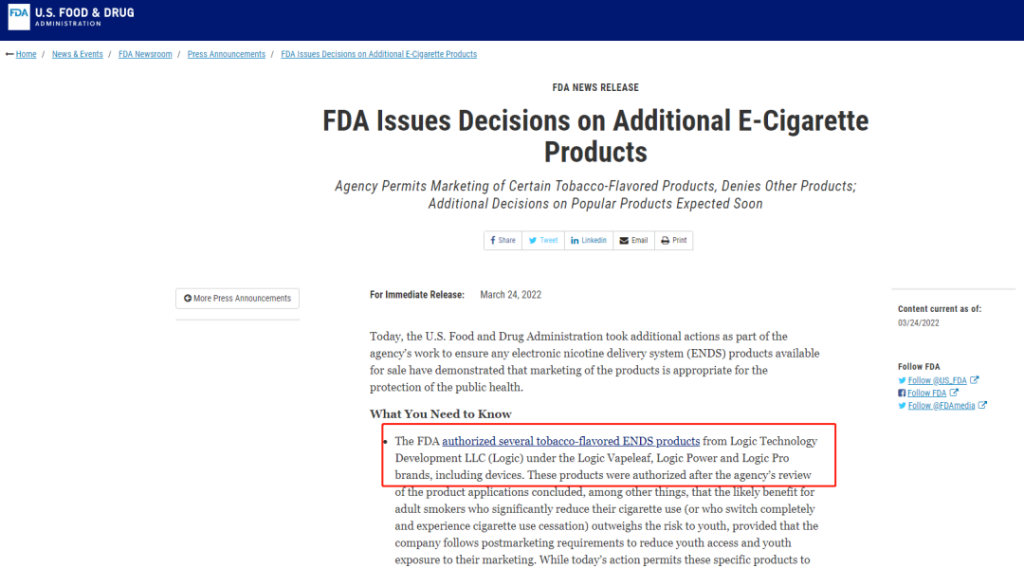 The FDA authorized several tobacco-flavored ENDS products from Logic Technology Development LLC (Logic) under the Logic Vapeleaf, Logic Power and Logic Pro brands, including devices. These products were authorized after the agency's review of the product applications concluded, among other things, that the likely benefit for adult smokers who significantly reduce their cigarette use (or who switch completely and experience cigarette use cessation) outweighs the risk to youth, provided that the company follows postmarketing requirements to reduce youth access and youth exposure to their marketing. While today's action permits these specific products to be sold in the U.S., it does not mean these products are safe nor are they "FDA approved." All tobacco products are harmful and potentially addictive. Those who do not use tobacco products shouldn't start.
原文链接:https://www.fda.gov/news-events/press-announcements/fda-issues-decisions-additional-e-cigarette-products

通过PMTA审查的Logic产品:
Logic Regular Cartridge/Capsule Package
Logic Vapeleaf Cartridge/Capsule Package
Logic Vapeleaf Tobacco Vapor System
Logic Pro Tobacco e-Liquid Package
Logic Pro Capsule Tank System
Logic Pro Capsule Tank System
Logic Power Tobacco e-Liquid Package
Logic Power Rechargeable Kit

Logic is an electronic cigarette manufacturer in the United States. It was acquired by Japan Tobacco International in April 2015. It has multiple electronic cigarette categories.

Vapeleaf: This is the only FDA-authorized HTP other than Philip Morris International's IQOS, which is currently not sold in the U.S. due to a patent dispute, but in other countries under JTI's PLOOM TECH brand.


Logic Power: A rechargeable cigar-like device with a traditional screw-in atomizer refill.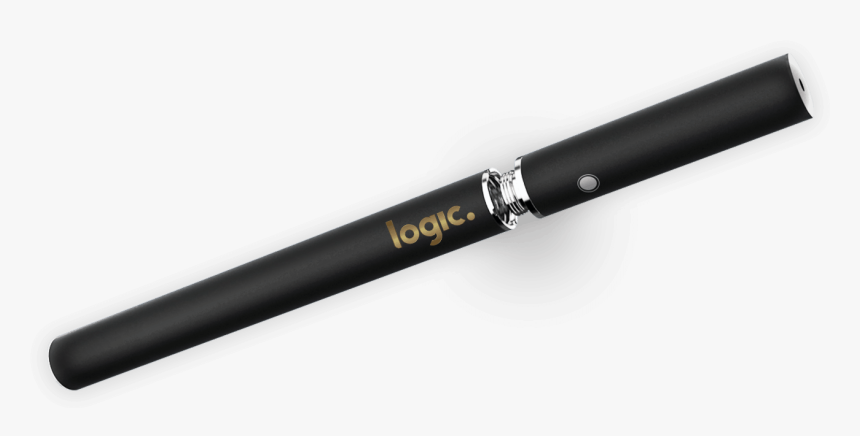 Logic Pro: An e-cigarette with a recessed sealed capsule that holds 1.5ml of e-liquid.


Logic is the second company to receive FDA clearance for an e-cigarette product for sale. In October 2021, the agency granted RJ Reynolds (RJR) Vapor Company a marketing license for three obsolete vapor products for its Vuse Solo device and two tobacco-flavored pods.




The agency also denied the use of Vuse PMTA for flavoring products other than tobacco.

Notably, neither the Logic product nor the Vuse Solo licensed today has a sizable share of the U.S. vaping market. The most popular mass-market vaping products, such as the JUUL and Vuse Alto refills, are still under FDA review.
China Electronic Cigarette Factory/ The best electronic cigarette factory in China/Cheap vape /vape pen/ vape pod/ .The New vape /vape pen/ vape pod/ Popular/fashionable/prevalent vape /vape pen/ vape pod/No leakage/ No leak vape /vape pen/ vape pod/ delicious flavor vape /vape pen/ vape pod/ vape /vape pen/ vape pod/ Wholesaler/vape /vape pen/ vape pod/ manufacturers/ vape /vape pen/ vape pod/ suppliers/ vape /vape pen/ vape pod/ actory、Customized/vape /vape pen/ vape pod/ Free Sample/vape /vape pen/ vape pod/ buy discount/ vape /vape pen/ vape pod/ quotation/Top vape /vape pen/ vape pod/ Best vape /vape pen/ vape pod/ vape /vape pen/ vape pod/ in stock/ vape /vape pen/ vape pod/ near me